All the Knödel: How to Make German Dumplings
German Dumplings are one of my favorite things to eat. I've never met a Knödel I didn't like. From Semmel to Potato, Zwetschgen to Leber... I seriously love them all and today, I'm sharing recipes I've found on how to make dumplings. 
"German bread dumplings are a typical garnish to a nice German pot roast. Imagine bread dumplings soaking up the juicy sauces of that yummy roast to then travel on a fork alongside red cabbage to your mouth. Sounds like heaven, right? Click here for the recipe for these dumplings and mushrooms    
"Potato dumplings are these great, little, underrated sidekicks. Just like red cabbage from last week, they are usually not the main gig, but instead are backup singers allowing the big star to shine. They are carriers of sauces, containers of Sauerbraten, … my point being that they are extremely versatile and so EASY and yummy!!
Next time you're making a roast, why not quickly transform those potatoes into little dumplings? I already have more and more ideas of what else to stuff them with (herbed goat cheese, anyone?) or work into the dough (last time I made these, I added little cooked bits of bacon – yum!). So let your creative juices flow, and make these your canvas for inspiration, making them just a touch more noticed when competing with superstar "pot roast."
Click here for this potato dumpling recipe 
source: http://dirndlkitchen.com/?s=dumpling   
---
Want to learn how to make dumplings ("Klöße und Knödel") including the famous and very traditional potato dumplings? You'll find various recipes for those, plus some VERY strange ones in the list below as well.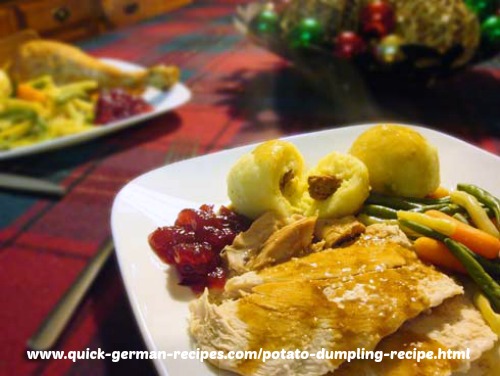 My very favorite ones are the Thüringer Klösse. These are not only time consuming to make, but also quite a bit of work. Easier are the potato dumplings made from cooked potatoes. Served with my rouladen alternative, flatladen, and sweet and sour red cabbage -- this is a favorite meal at our house. These dumplings were one of my Mutti's favourite's as well, because they were so quick to make. Of course, the homemade croutons in the middle add the extra touch of "delicious-ness".
How to make ALL the Dumplings ...
If you want to try something a bit different, there are the traditional bread dumplings that are so common in the Bavarian area of Germany.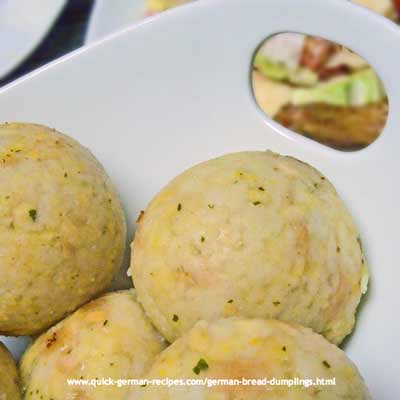 It has an interesting method of making dumplings using leftover bread. The results are delicious. Great "soaker-uppers" of gravy!
These bread dumplings were something I discovered on my first trip back to Germany after having left as a little girl. For me, dumplings ALWAYS meant potatoes. And, I really, really enjoyed my potato ones. It really took a step of faith to try these made with bread. Guess what? I got hooked! What a fabulous way to use up stale buns and bread. The only requirement was that one needs to have gravy :) Something I've learned when making dumplings, especially if you don't make them too often, is to make a "trial" one first.
TIP FROM OMA!

Make a Trial Dumpling First! When I first started, and not knowing for sure if the dough would hold together, I'd just make all the dumplings at once and put them in the pot of gently boiling water. After my first flop when they all fell apart, I learned to always try one dumpling first. If it held together, I'd form the rest and cook them then.
---
If you run into a leftover dumpling situation, here is a great way to re-purpose your knödel for a new tasty dish: http://www.mybestgermanrecipes.com/fried-german-dumplings/ 
"The German Spinach dumplings is actually an Italian recipe and is a specialty in the region of Southern Tirol but it has made its way into is the German cuisine as well. I found this recipe on the menu of the German Restaurant Jagstmuehle in Germany They bake them in the oven with cheese as the last step which sounds delicious. These dumplings are so easy to make. Click here for the entire recipe 
source: http://www.mybestgermanrecipes.com/?s=dumplings&searchsubmit=
-
Please note that some of the links in select posts are affiliate links and, at no additional cost to you, I earn a small commission if you make a purchase.
As always, ideas and opinions expressed in this post are entirely my own. - Erika