Dirndl Trends to Watch for Oktoberfest 2023
Every year the runways are full of eye-catching fashion trends that trickle their way down to our closets and I have been keeping an eye on not only those fashions, but also what's going on in the dirndl fashion world. A traditional outfit never really goes out of style, but there are definitely fabrics, styles and colours that come and go.
There are some fun trends and unexpected going on right now and here is how I predict they will make their way to Oktoberfest 2023.
Oktoberfest Dirndl Trends & Blouses
Long Sleeves & Lace
Lace aprons and blouses have been in style for dirndls for a while, and they are not going away anytime soon! Keep rocking those beautiful beaded lace aprons and stretch lace blouses this year.
I'm also seeing more and more long sleeve blouses. This elegant take on the dirndl blouse is great for fall... and thus Oktoberfest. I'm seeing this trend apply for a white blouse or black. While you're making your reservation at beer tents, be sure to add a long sleeve dirndl blouse to your packing list.
Florals
Florals have been a popular trend for dirndls for quite some time, and for good reason. These beautiful patterns add a touch of femininity and elegance to the traditional Bavarian dress. From small, delicate blooms to bold and bright designs, floral prints can be found in a variety of styles and colors, making it easy to find the perfect dirndl for any festival in Munich. Whether you opt for a classic dirndl with subtle floral details or go all-out with a bold, statement-making print, florals are a timeless trend.
I'm seeing this, particularly in bodices and aprons. While dirndl with small delicate flowers are commonly worn in Bavaria, I'm seeing bright bold prints on the horizon! Women are wearing dresses with big flowers in all sorts of colors in both America and Germany, so this is sure to be a look to wear at a festival like Frühlingsfest or Oktoberfest 2023.
Black & Leather
Does black ever go out of style? Black on black on black is hot right now, but it's about to get hot outside. This is going to be a great trend for fall/winter 2023. Come September and October, adding a moto-inspired jacket to your look for Oktoberfest will not only provide you with extra warmth, but it'll add a whole lotta style. 
And lederhosen... literally translating to leather pants, definitely going to be on trend for women this season at all the Oktoberfest festivities. Now obviously lederhosen as a trend for Oktoberfest is kinda silly since it's the ideal garment for men to wear! But what I predict is more women opting for a version of lederhosen.
Denim
Piggy-backing off the above statement about women in lederhosen, I can already see women talking a walk through the Wiesn' in their denim lederhosen adorned with embroidery and paired with a chic and adorable cardigan. This look is not only beer tent ready, but would be great for any occasion!
Denim is also making an appearance in many a dirndl bodice. I would put money on this being a spring trend that flows into other seasons as well.
Bright Colors
Bright colors have become a popular trend in fashion so be ready for it to translate to dirndl dresses too. With magenta emerging as the Pantone color of the year, shades of this bold and vibrant hue offers a refreshing alternative to traditional dirndl colors and adds a modern twist to the classic Bavarian dress.
This trend towards bright colors, magenta specifically, provides a fun and playful option for those looking to make a statement with their dirndl fashion.
Light Pastels
On the opposite end of the beer tent, light pastel colors are also all a hot trend. These soft and delicate hues offer a romantic, feminine traditional touch to the dirndl (something Princess Therese would probably like). I anticipate seeing a variety of pastel shades, ranging from blush pink to soft lavender and baby blue, making it easy to find the perfect dirndl for any occasion.
These pastel colors are often paired with delicate lace or embroidery, adding to their charming and elegant aesthetic. While traditional costumes in Bavaria are typically shades of red, blue and green... this year I think you'll find the beer tents full of very light and delicate dirndls. Whether the apron is a creamy blush or the entire dirndl is baby blue, pastels offer a versatile trend that can be dressed up or down depending on the occasion. And I don't see this trend going anywhere anytime soon.  
Sheer
Sheer fabrics are set to be a popular fashion trend for 2023. The use of translucent fabrics in dirndls is sure a thing as well. It adds a playful and alluring element to the look, allowing the wearer to show a hint of skin without being too revealing.
I see this being incorporated into a range of traditional costume items, from blouses to aprons and even outerwear.
Sheer fabrics can be layered with more opaque pieces to create a subtle and elegant design or worn on their own for a more daring and edgy look. For example, I love to layer a solid black tank under a sheet black blouse.
Simplicity and Monochrome
Clean lines and monochromatic looks are set to be popular in fashion for this year. This trend features outfits with minimalistic designs and a focus on a single color, creating a sleek, plain and sophisticated look.
Designers are creating monochromatic outfits using a range of colors, from classic black and grey to more daring and bold hues such as bright red or royal. I see this playing a roll in traditional dirndls as well. Some folks are ditching the ruffles, ribbons and extravagant embellishments for a more understated and simple look.
This trend for keeping the dirndl bodice simple is great for those who want to get a few Oktoberfest 2023 souvenirs like a giant lebkuchen herz'l or wiesn gruppel!
Upcoming Oktobefest Trends in Dirndl Accessories
You don't want to show up to the beer festivals without the complete look! Don't forget about your accessories for your Oktoberfest 2023. From traditional knee socks to edgy chain charivaris, these are the trends I see for the upcoming year in Munich.
Flower Crowns
Along with the trend of florals, flower crowns are going to be Munich go-to look this year.
Women in Bavaria began the tradition of wearing floral crowns at Oktoberfest during the early 19th century. They wore flowers in their hair as a symbol of their femininity and natural beauty. As the festival grew in popularity, the wearing of floral crowns also became more popular. Today, women of all ages and backgrounds can enjoy this trend.
I love this trend and I don't see it going anywhere. You can use it to make your look adorably matchy-matchy or bring just a pop of color to a neutral look. Either way, this trend is great for special events like Oktoberfest or even more appropriate for Frühlingsfest.
Chokers
Choker necklaces have been a popular trend in recent years, and they can be a great accessory to wear for Oktoberfest 2023. Chokers are versatile and come in many different styles, from delicate and feminine to bold and edgy. A simple black velvet choker with an edelweiss can add a touch of elegance to a traditional dirndl dress, while a beaded or embroidered choker can add a pop of color and texture to a more simple outfit.
Alternatively, a metal choker with a pendant or charm can create a more bohemian or rock-and-roll vibe. Whatever the style, choker necklaces can add a modern and stylish touch to the classic Bavarian look, making them a great addition to any Munich Oktoberfest outfit.
Hand-free handbags
Big bags are back en vogue... but don't try to take one of those to Oktoberfest. When hopping beer tents, it's best to keep your valuables attached to you and your hands-free.
A small purse that attaches to your aprons (like our suede apron purse) or a little cross-body bag is ideal. Plus, they won't even let you into Oktoberfest in Munich with a big bag (especially a backpack). So while big puffy handbags are trending in fashion, don't show up at the Wiesn that first Sunday with a giant tote.
Hot Shoe Trends for Oktoberfest 2023
I don't see too much changing here. Ankle booties and flats will continue to dominate as the top Oktoberfest footwear, but here is what will be new and a bit far from traditional.
Doc Marten Stlye & Motorcycle Boots
Chunky shoes and boots are coming back! Among the alternative crowd, they never went anywhere and they continue to be a popular footwear choice for people of all ages and styles. These sturdy boots are known for their durability and comfort, as well as their distinctive, chunky style.
I see these being a great Oktoberfest shoe this year to combine with a variety of looks that you can also get use of beyond your time at the Wiesn. Remember Oktoberfest is in late September and early October, so boots would definitely be a good idea.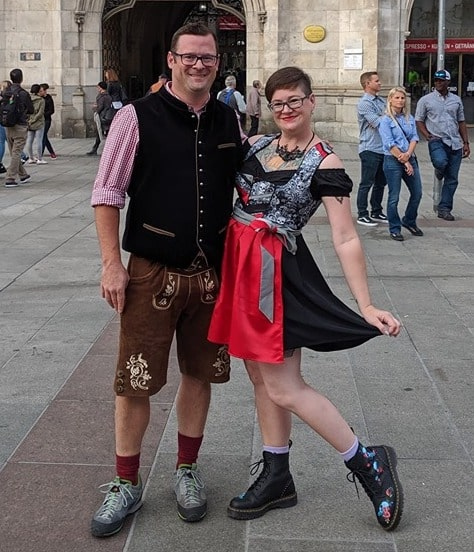 Sneakers
Sneakers are HOT right now. I mean shoe stores are full to the brim with gym shoes, tennis shoes, whatever you want to call them... they're the it shoe. You might see some neutral-toned casual shoes with dirndls this year. If you want to hop on this trend, just be sure their clean and match your look. Nothing looks worse than a gorgeous dirndl with dirty dad-sneakers covered in beer, mustard or other parts of your meal.
What do you see happening in the fashion world that you think will make its way to dirndls? Do your everyday fashion choices influence your festival looks? However, you decide to style this traditional costume, be sure to have your Munich hotel reservation, check out the different Oktoberfest beer tents and have your dirndl ready! Oktoberfest 2023 is sure to be fire! (that's the trendy way to say awesome right?!)
Looking for more Dirndl Style tips & tricks? Click the link to get access to our official style guide! >> https://bit.ly/dirndlstyle