Dirndl Accessories you see at Oktoberfest, that Americans don't know about 
Are you planning to attend an Oktoberfest celebration? If so, you know that the perfect ensemble and accessories are a must. But some of the classic dirndl accessories you see in Munich are not seen in the US!
Let's explore all the unusual and interesting accessories that can take your traditional dirndl to the next level. From vibrant floral crowns and hats to those cookie heart necklaces (and why are people wearing engraved clothes pins), we're sharing our top picks for festive accessories that will make your look stand out from the crowd... or fit in with the Munich locals!
Overview of Oktoberfest celebrations
Oktoberfest is a Bavarian tradition that celebrates beer and merriment, as well as the harvest season. This 16-day festival takes place in Munich, Germany each year, with millions of people attending from around the world. Traditional outfits are part of the fun, complete with men wearing lederhosen and women wearing dirndls. And if you really want to stand out and let your personality shine you can add unique accessories to spruce up your look!
When it comes to Oktoberfest outfits, the right accessories can make or break your look. Whether you're going for something traditional or something more creative, having a few unique pieces in your ensemble will add an extra bit of flair to your dirndl.
Traditional Dirndl Accessories
If you're looking for a classic dirndl ensemble that will really bring your dirndl to life, here are a few ideas:
Floral Crowns
Women in Bavaria began the tradition of wearing floral crowns at Oktoberfest during the early 19th century. They wore flowers in their hair as a symbol of their femininity and natural beauty. As the fest grew in popularity, the tradition of wearing floral crowns did too. Today, women of all ages and backgrounds continue to wear colorful and intricate headpieces made of flowers (fresh or fake), which have become a beloved symbol of Bavarian culture and a way for ladies to showcase their individual style and beauty.
Traditional 

Bavarian, Tyrolean, or Alpine hat

:
There isn't an easy English translation for It, but a fool or straw fedora with Intricate details like flowers, pins, feathers etc. is the perfect way to add something to top off your look. 
Men tend to keep the hat simple, with a rope around the base of the hat with pins. They often have a collection of feathers, flowers or "brush" at the side of the crown. The tradition of wearing feathers in the hat began many years ago, when hunters would pull a feather from their catch and place it upon their hat. The bigger and more elaborate the feather, the better the hunter... but does bigger always mean better? 
Women wearing the hats is a more modern style and can be made of wool, felt or straw. Beautiful trimmings, intricate pins, buttons and ribbons, little bouquets of flowers and of course feathers can all be found on their mini works of art. 
Another common style is to collect pins from your travels and keep them on your hat. Many destinations (especially Germany) will have little stands selling pins that are considered collectors items to be showcased... like on your hat!
Whether you choose to add a vibrant flower headband or an intricate Bavarian hat, a headband or hat is the perfect way to add something to top off your look.
Wiesn Grupperl (Engraved Clothes Pins):
These adorable clothes pins are a great way to add a bit of fun flair and style to your dress. You can find ones that feature traditional Bavarian designs or even personalized engravings. You won't find many folks wearing them at Oktoberfest celebrations in the US, but they are very popular in Munich! You'll find multiple stands at the Wiesn' selling these cute accessories and you can have them custom burned while you wait. People often choose their names, nicknames, or something like 'Oktoberfest 2023' to commemorate the trip.
Looking for something other than clothes pin to add excitement to your look? Shop our enamel pin set!
From statement necklaces and earrings to charm bracelets and brooches. Jewelry is the perfect way to add some subtle bling to your outfit. If you're looking for a super cute and unique piece of jewelry with Edelweiss or Pretzel jewelry!
Lebkuchen Herz'l:
Lebkuchen Herz'l are traditional German gingerbread cookies often found at festivals like Oktoberfest. People wear them with dirndls and these heart-shaped cookies typically feature icing and colorful designs, along with sentimental messages or greetings. They use a blend of spices, such as cinnamon, nutmeg, and cloves, and are usually sweetened with honey or molasses. Lebkuchen Herz'l have a soft, chewy texture and a rich, aromatic... but most locals will recommend you use them for fun and decor... not as a snack.
Charivari:
A Charivari is a decorative chain of charms and trinkets that are worn with traditional Bavarian clothing, such as lederhosen for men and dirndls for women. The charivari chain typically features a variety of symbolic charms, such as coins, deer antlers, and edelweiss flowers depending on the theme. Charivaris are often worn with lederhosen and can be attached to the front of the suspenders or the waistband. However, charivaris can also be worn with dirndls, usually attached to the apron waistband or the bodice to add extra embellishment.
Ideas for Adding a Unique Twist to Your Look
Ready to really stand out from the crowd? Here are a few ideas for adding a unique twist to your Oktoberfest outfit:
Statement shoes:
For a modern twist on the classic Oktoberfest dirndl dress, try adding some patterned or brightly colored shoes to your outfit. For more shoe inspiration, we have a blog all about what shoes to wear with your next dirndl dress.
Embellished zipper pulls:
If you're wearing a dirndl, add a bit of sparkle with some embellished zipper pulls. We have a zipper pull with the cutest charm - check it out here!
The Rare Dirndl What Not to Wear Guide
As with any ensemble, there are certain accessories and clothing you should avoid when dressing for Oktoberfest. Boy oh boy, they're bad. Try to Stay steer clear of the following:
"Ironic" hats:
Oh my goodness, the hats speak for themselves. Don't wear stupid hats like this or this... especially this... wait this is the worst!!
Backpacks:
While there's nothing wrong with wearing a backpack, it's just too big for Oktoberfest... like they won't let you In. It can be a little bulky and cover the detailing of your dirndl. Opt for a smaller-sized bag like our apron purse!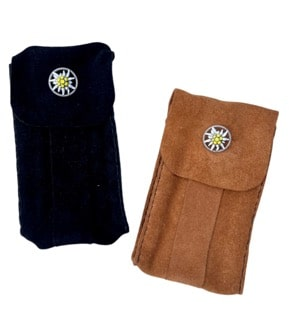 Printed T-Shirt:
OKAY, I'll just say it - either dress up properly or don't. Please please please do not wear t-shirts or aprons like this. Or any goofy beer t-shirts. It's borderline insulting.
Get to Accessorizing your Dirndl and Blouse
From vibrant hats to statement jewelry and novelty items, there are plenty of exciting accessories you can wear to an Oktoberfest. We've shared our top picks for festive pieces that will make your look stand out from the crowd, as well as ideas for adding a unique twist to your authentic dirndls.
We encourage you to be creative and have fun with your Oktoberfest outfits! Whether you choose traditional pieces like traditional dirndls or something completely unique (like our modern dirndls), the right accessories can really make your look.
Looking for more Dirndl Style tips & tricks? Click the link to get access to our official style guide! >> https://bit.ly/dirndlstyle