Get the Perfect Fit: How to Lace Up Your Dirndl
Dirndl lacing is an essential part of the classic dirndl experience. It's a traditional way of tying the bodice that has been used for centuries, and it gives each dirndl dress its unique look and helps accentuate our curves.
Dirndl lacing requires an even number of eyelets, buttons or hooks on either side of the center front opening to create the perfect fit, and there are a range of lacing methods that result in different looks and fits.
In this guide, we'll explain how to do dirndl lacing, as well as provide tips on achieving the best look for your dirndl for special occasions. Let's get started!
Understanding the Basics of Dirndl Lacing
As mentioned previously, an even number of eyelets or hooks are required for a successful dirndl lace-up front. These hooks should be evenly distributed around the center front opening, with one on each side at the top, middle, and bottom. You will also need a long ribbon or chain to create this look.
It's helpful to choose ribbons or chains that match or highlight the colors of the dirndl fabric so they blend in nicely. Once you have everything ready, you can begin lacing your beautiful dirndl dress!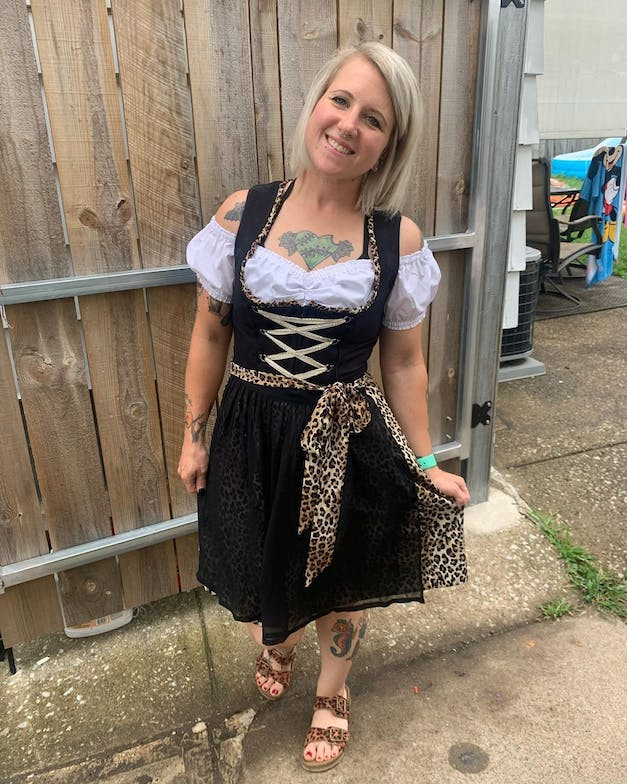 Dirndl Lacing Techniques
Now that you understand the basics of lacing, it's time to learn about the techniques.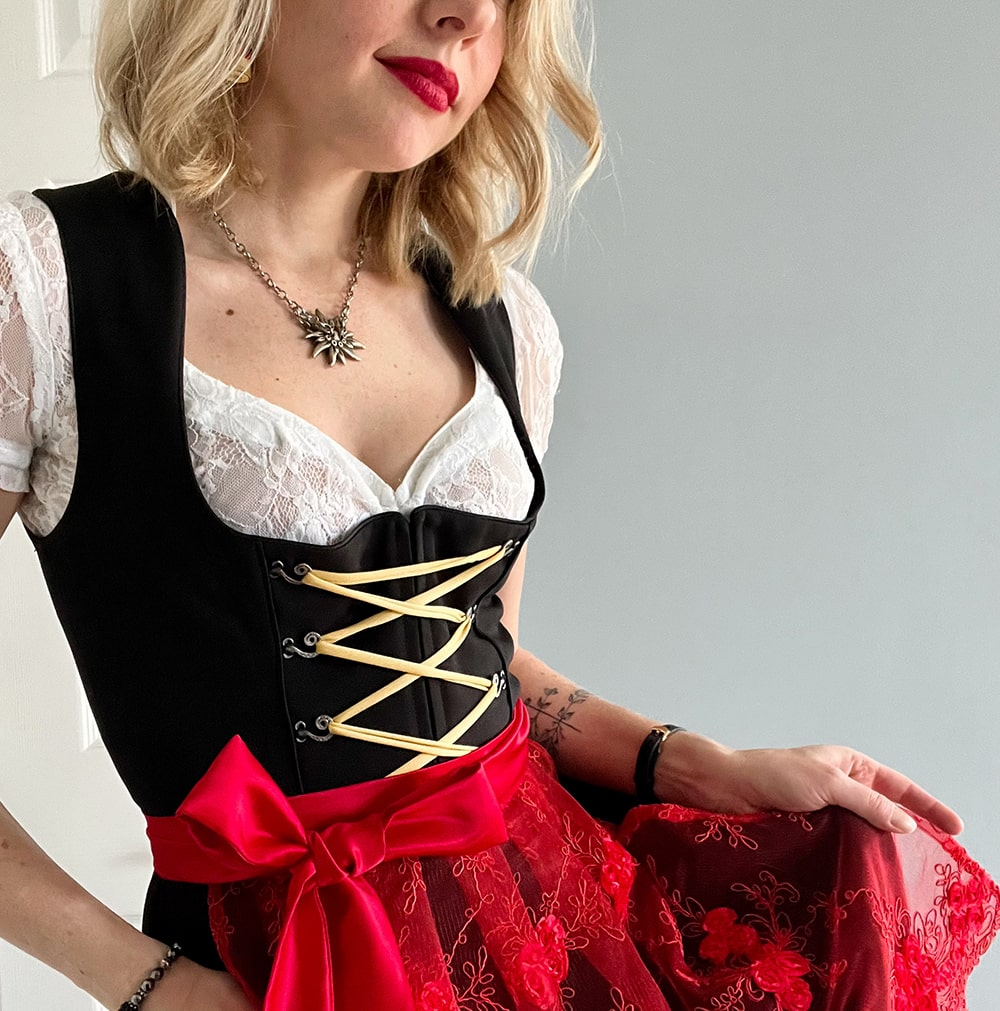 Lacing a dirndl dress requires one long ribbon that starts at either the top or the bottom of the dirndl hooks. Start by threading the string through each loop. Once all the loops are threaded, cross the strings over in an X shape and continue similar to a shoelace for example. Then tie into a know or bow and cover with your dirndl apron.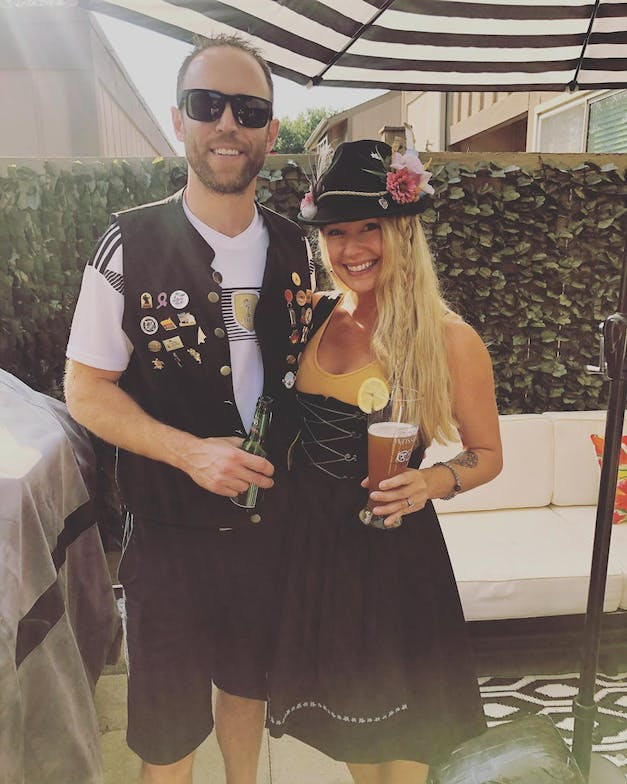 Lacing Up Your Dirndl with Ribbon and Chain
When you have a dirndl that you would like to lace up with both ribbon and chain, there is one major trick. Start by putting the chain inside of the ribbon, like a ribbon/chain taco. Then you can lace your dirndl like normal usual. Tie it in a bow at the bottom, put your apron on and you are good to go; ready to celebrate Oktoberfest or any special occasion!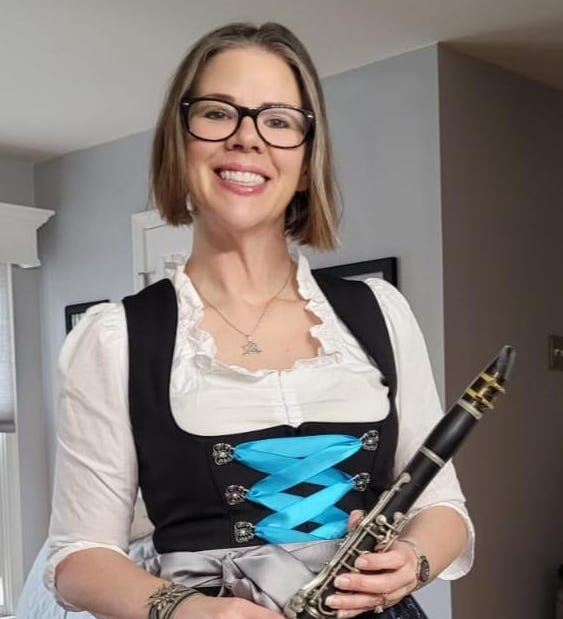 There are different types of dirndl lacing techniques such as diamond and box, but the most common is the crisscross. You can experiment with the different styles until you find the one that works best for your choice of dirndl dress. Whether you prefer a traditional, decorative or modern, fashionable, luxurious look, dirndl dresses and lacing can help you achieve it!
Tips on Achieving the Best Fit with Dirndl Lacing
This takes practice and patience. It may take a few tries to get it right, girls, but once you have a feel for it you'll be able to tie your dirndl dress quickly and easily!!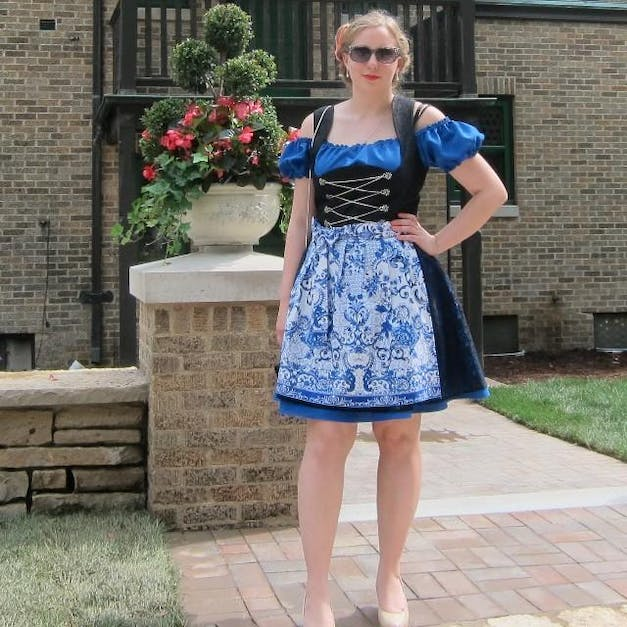 As a general rule, it's best to lace your dirndl dress slightly tighter than you would normally wear it. This will ensure that the lacing doesn't come undone and that the bodice fits snugly when you stand, walk, move around, or dance!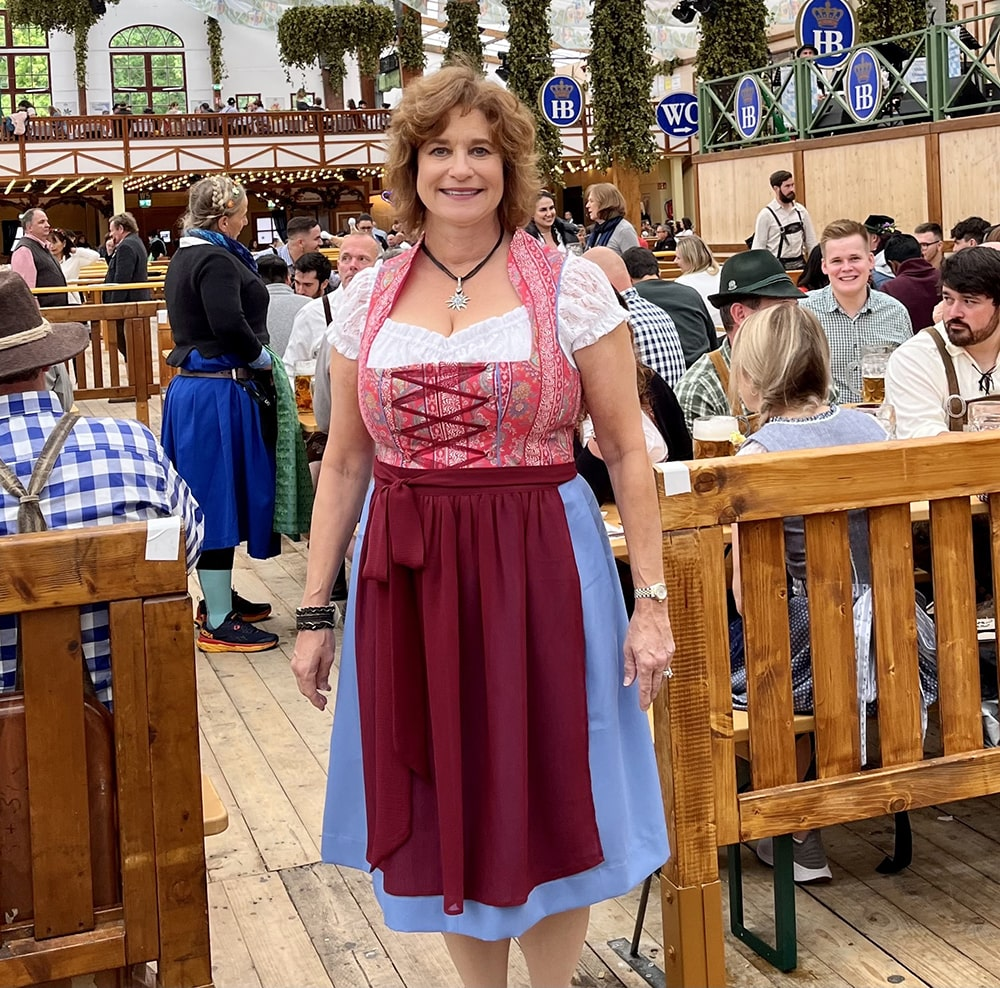 It is worth noting, that you don't want to pull on the ribbons too tightly. This puts pressure on the hooks and over time they may loosen or even fall off. It is best to use the lacings as a decorative piece, and get your dirndl altered for the perfect fit.
When tying a bow or knot at the waist or center front opening, make sure not to pull too tightly – you want the strings to be taut, but not so tight that they cut into your skin or are hard to undo.
Finally, once you've finished lacing your dirndl dress, double-check the fit and adjust accordingly if necessary. With a bit of practice and patience, you'll soon master the art of dirndl lacing and be able to tie your beautiful dirndl dress with ease!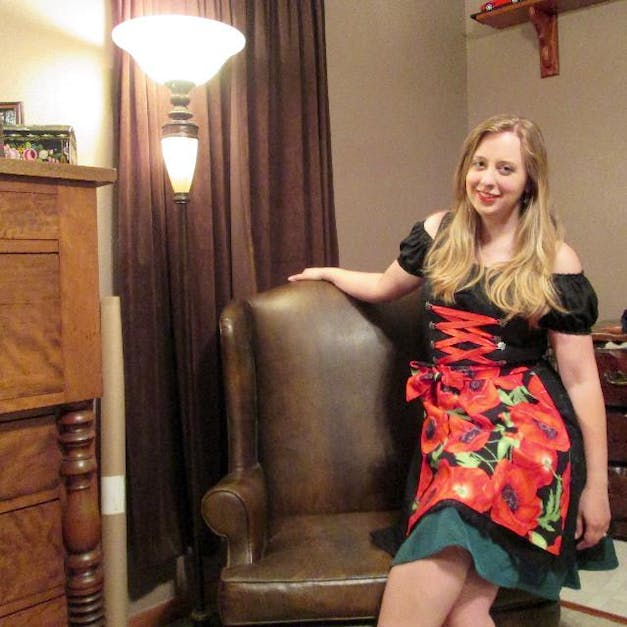 Lace Up Your Dirndl Video Tutorial
Are you a visual person like me? Check out this video where I walk through how to lace up a dirndl! You can lace with just ribbon, chain, both, or anything you like!
In this video, I show you how to lace your dirndl with a ribbon and a chain.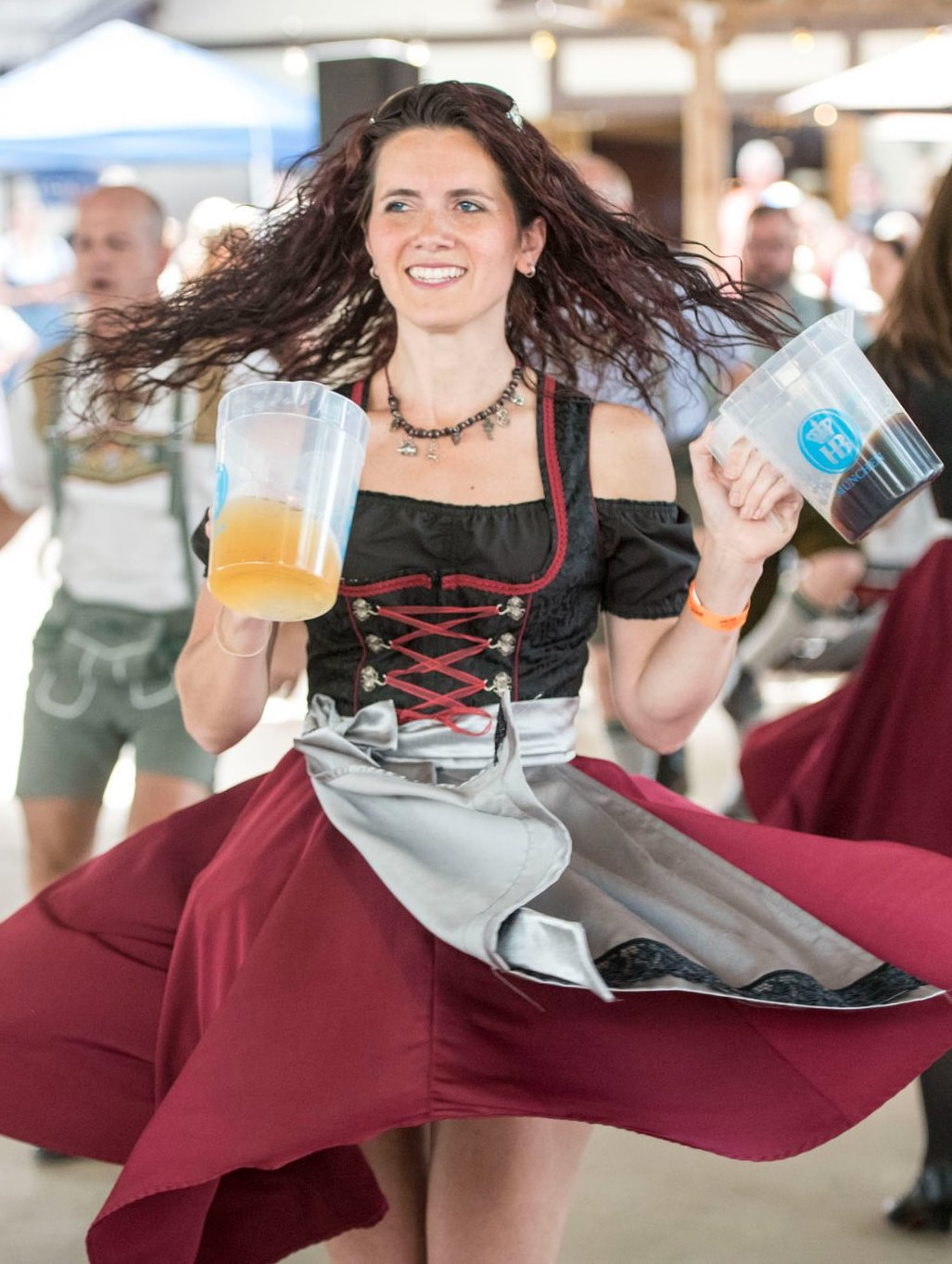 Wrapping Up Your Experience with Dirndl
By now, you should have a good understanding of the basics of dirndl lacing and the different types of techniques. With some practice and patience, you'll soon be able to tie your dirndl in no time!. Properly tying your dirndl helps accentuate your curves and compliments any size dirndl (or plus size dirndl)!
Once you lace up your dirndl, put on your favorite apron, and go strut your stuff.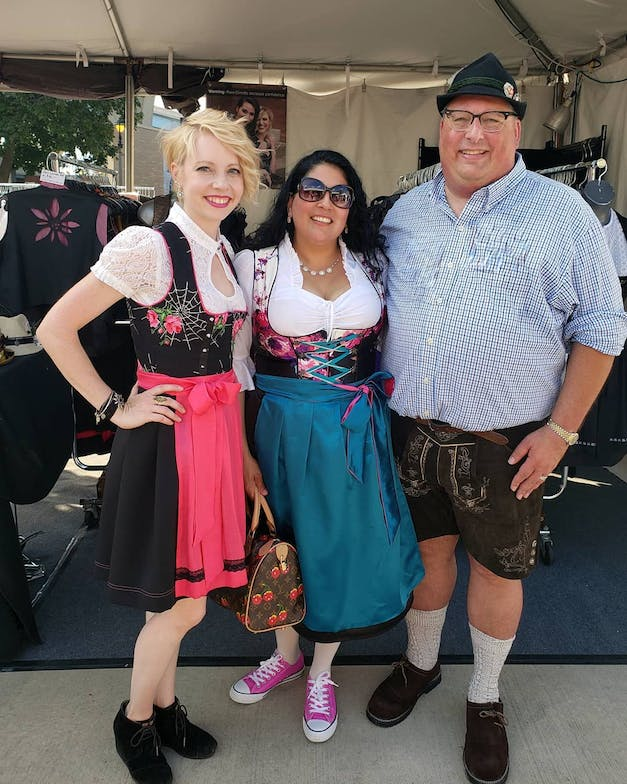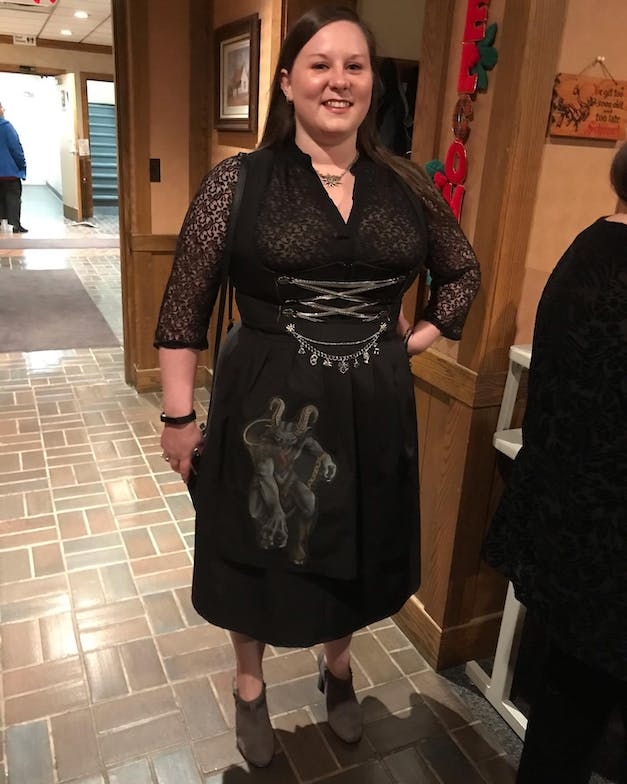 P.S. If you have one of our Edelweiss Wrap Bracelets, here is another trick you can use >> https://www.tiktok.com/t/ZTRK7Nkxv/
P.P.S. Looking for more Dirndl Style tips & tricks? Click the link to get access to our official style guide! >> https://bit.ly/dirndlstyle
–
Ever wonder which dirndl style you are? Click here to take our quiz and find out now!